Trump Looks for Land in Denver to Build Condo Hotel
Mogul abandons plan for one of city's tallest towers on El Jebel site
By John Rebchook, Rocky Mountain News July 8, 2006
Donald Trump is not pursuing the historic El Jebel site at the edge of Denver, but the New York City real estate mogul is still interested in developing a luxury hotel and condos in downtown.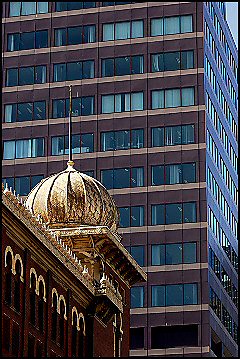 The El Jebel building located at 1770 Sherman St. had been targeted by Donald Trump for the five-star condo hotel project but the plan fell through, and the property is back on the market.

"We are looking for a fantastic site and plan to deliver the best product ever seen in Denver," Felix Satter, principal of the Bayrock Group, Trump's development partner, said Friday.

"I personally think Colorado is the most beautiful state in the U.S.," he said. "You have these unobstructed mountain views that go on forever."

Bayrock, headquartered in the Trump Tower in New York City, is Trump's partner for the proposed Denver development, as well as other high-end projects in New York City and throughout the U.S.

Satter said Trump and Bayrock are about to start construction on the 45-story Trump SoHo, a luxury hotel and condo development in New York City. The most recent winner of The Apprentice TV show, Sean Yazbeck, chose to lead the project over the Trump International Hotel and Tower in Honolulu.

Earlier in the year, the Trump team had the El Jebel site under contract at 1770 Sherman St., where it hoped to build a five-star hotel and condo development that would be 715 feet high to the tip of a spire, making it the tallest building in downtown Denver by that measure.

The actual building - without the spire - would be a maximum of 650 feet tall, making it the fourth-tallest building after Republic Plaza, 1801 California St. and the Wells Fargo Center.

Because of a partnership dispute, the owners of the El Jebel were prevented from selling it to the Trump/Bayrock team. Instead, they are now listing it with CB Richard Ellis Hotels. There is no asking price, but the Trump team had it under contract for $22 million, according to court documents.

"The property represents a unique opportunity to acquire (a) one-of-a-kind shrine, El Jebel Temple, develop a hotel and create the ultimate standard of living in the heart of downtown," according to its 16-page brochure.

The CBRE brochure includes drawings by Denver architect David Tryba of a proposed 760,000-square-foot, 150-room hotel that would include 125 to 150 condo units, five floors of penthouses, 469 parking spaces and 5,000 square feet of retail. The historic temple building would be incorporated into the new high-rise.

The three out-of-state brokers listing the project couldn't be reached Friday.

Satter, who along with Trump was eliminated from the $1 billion Denver Union Station redevelopment for submitting an inadequate request for qualifications, said brokers have presented about 20 sites downtown to him, but he has only seriously considered three or four. He said he hopes to look at more potential sites.

"As of yet, we have not identified something that we are moving forward on right now," he said.
He said he isn't worried about overbuilding, even though there is a Ritz-Carlton under construction and there are plans for a Four Seasons and a W hotel, all of which would include luxury condos.

"If the market softens, some of them will drop off," Satter said. "The market will correct itself."
He said he is bullish on Denver's long-term prospects.

"Denver is a very vibrant city," he said. "If I bought a piece of land today, the building wouldn't open for another three years. I think Denver is going to be very strong 10 years from now and even three years from now. Where it is going to be six months from now, I have no idea."