Interview with Jack Christie, VP of Sales-Marketing
Trump International Hotel & Tower Las Vegas
Interview by Brian Wargo, Staff Writer
In Business Las Vegas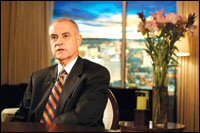 As Donald Trump's point man for selling condo-hotel units in Las Vegas, Jack Christie doesn't have to worry about hearing "You're fired."
Christie, sales and marketing vice president of the Trump International Hotel & Tower Las Vegas, and his staff have sold all but 35 of the 1,282 units in the 64-story tower that is scheduled to be opened on New Year's Eve 2007.

Plans for a second tower will be announced next year.
Christie, 69, who came to Las Vegas in 1996, has served as vice president of sales at Lake Las Vegas and vice president of sales for American Nevada Company, where he managed the closeout of custom-home sites in Seven Hills and in Green Valley.
Christie has been married 35 years and has six children and 11 grandchildren.

What are the plans for opening for New Year's Eve 2007?
Answer: Donald Trump is the one who would like to do it on New Year's Eve. And I am sure he has his ideas of what he would like to do. No doubt, it will be as gala an event as Las Vegas has ever seen on top of the normal New Year's celebration.
What does the Trump name mean for this project?
It is 99 percent of why we have been so successful. The Trump brand is what caused people to flock to our door, some of whom know of Trump or purchased other Trump hotels and buildings elsewhere in New York or Chicago or Florida. Nothing would be successful as it is if it wasn't for the Trump brand on the building. That's why people come into our sales center. That's why they buy units in our condo hotel and expect the very, very best.
What is the mix of buyers?

The majority of people are most likely going to place their unit in the Trump Hotel rental program. I guess you might categorize them as investors. We figure very few people will live in their hotel unit on a full-time basis. Thirty-five percent of our buyers are from Las Vegas. That is great. That shows there is local following of activity.
Over 90 percent of our sales have been referred by real estate brokers. When you know you have the following of the real estate broker community who likes what you do and trusts the Trump organization - that we are going to build what we say we are going to build, that we are going to represent our company right and know we are going to treat their customers right - that is the most gratifying of all.
What is the price range to buy here?

The price range was originally $550,000 to $5.5 million. The last sales and those remaining for sale are in the high $700,000s to $7 million.
What was the reaction when the prices were announced?

When we announced a $1,000 a square foot, many people thought we were crazy. One thousand dollars a square foot was something unheard of. Obviously Donald was aware of that and $1,000 a foot is nothing in comparison to what he's achieved in New York, where it goes as high as $3,000 a foot. Then as things progressed and prices increased in this town, it's amazing that $1,000 a foot wasn't the exception but the norm."
How has the upswing in construction costs impacted the project?

Very little impact. One of the keys to a successful construction project is that in addition to pricing it right and having the building financed and satisfying a presale requirement is getting the right contractor to build. Certainly the Perini Co. is the finest contractor in this town.
What about your location on the Strip?

I remember five or six years ago the movement in this town was south when the Bellagio, the Paris, Mandalay Bay and New York-New York came into the picture. It seems like everything was moving south. Things changed with the brand across the street by the name of the Wynn and what it did for us.

Here with Trump and Wynn and now with the Stardust that will be replaced by Echelon and Wynn now with the Encore. The New Frontier will be replaced. Phil Ruffin is planning to build the Montreux that will tie into the hotel complex of the Trump International Hotel and Tower. The majority of movement is going north.

And your location next to the Fashion Show mall?

"It's tremendous. The people will walk out of the front door of the Trump International Hotel and walk directly across the street and it's the front door of Nordstrom's. You can't get much better than that.

Why not have a hotel with gaming instead of a condo hotel?
"This is a partnership with Phil Ruffin and Donald Trump. They are equal partners. Phil is the gaming expert here with the New Frontier and what will be the Montreux. When the decision was made there are many of us who applauded our decision not to have a casino because that kind of set us apart. There are many people who purchased because we were not going to have that casino.

Why is that?

These people who will own the unit and occupy it like the fact that many people who come to Las Vegas come for reasons other than gambling. So whether it's a conference, coming for the dining or for the other experiences, not everyone is interested in gambling. That is one of the things that sets us apart from other hotels that are being built or have been built.

What's the status of the second tower?

The second tower will be announced officially on national TV by Donald Trump when airing "Apprentice 6," which has already been filmed except for the finale. It hits television after the first of the year. It will be almost identical to the first tower. We will add another 1,200 or so condo hotel units.

What happened when the first tower was announced in December 2004 when the winner of "Apprentice 2" was given a choice to work in Las Vegas but chose New York?

All of a sudden our phones started ringing because we got national exposure. We had 300 to 400 units reserved in just a matter of a few days.

What happened with the taping of "Apprentice 6"?

The contestants at that time were given the challenge by him to come to Las Vegas and establish the marketing program for Tower 2. The Apprentice candidates came to town and picked our brains and went back after meeting us and made a presentation to Donald on what they think should be the marketing program for Tower 2.

Now, when the finale of the "Apprentice 6" is aired, we will know in advance what their recommendation is. That's when we will be announcing what the marketing program will be. As Donald Trump has said to us, it is quite unique to have a show with a 55-minute commercial on Trump International Hotel.

What was it like to appear on the show?

It was interesting. I may be living proof on why they have editing rooms. I am not sure but at least it was nice to have the experience of 35 people coming in here - lighting men and sound men.

Will the winner work here?

We are hoping that is the case, but we don't know for sure yet.
Will "Apprentice 7" be taped in Las Vegas?

That is a possibility. That's one of the things Donald is deciding on right now since all of "Apprentice 6" is filmed in Southern California. "Apprentice 7" may be a combination of there and here, but that is a decision he will make in the future.

Does Donald Trump have any other plans for Las Vegas?

None that I am aware of. Let's face it. No one builds more high rises in New York than Donald Trump. I can't speak for him, but I imagine when the two towers are built and Donald being successful as he has been and will be, my guess is he will look to do other things here in Las Vegas.

Will he have a place at the condo hotel?

He has a three-bedroom penthouse.

How did you come to work for Trump?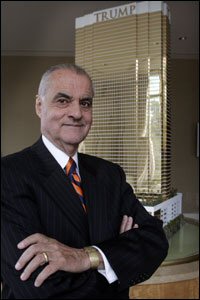 I responded to an ad looking for someone who was local and someone who had a real estate broker's license and involved in the high end. Fortunately I had all three of those requirements. I am sure many other people had as well. I happened to be the first one to raise my hand.

What was your first meeting with Donald Trump like?

I met with Donald three months after I was hired, and it was a pleasant experience. The meeting was at the architect's office. And of course we see him on television and see the person who always says "You're fired."

I was amazed the knowledge he had and expertise in what he wanted. He knew it so well. He asked the questions of his people whether those of whom worked for him and the contractors or architects and gave his opinion. I walked out of the meeting and said if ever I was in the right place at the right time working for the right guys, with him and Phil Ruffin, that was it.

What don't people know about him that may surprise them?

I think the most surprising thing and I got to work with some of the people in New York, many of them met over the phone or via e-mail, I am amazed at the loyalty he gets from them because they are so impressed with him. They say he is sensitive and loyal to them. That is not something you might have expected.

How has he influenced you?

Needless to say as many times I am interviewed, it is not because of me, it's because I represent the Trump organization. It is nice to be able to say to people I work for Donald Trump or work for the Trump organization. When I hand out the business card, that we jokingly refer to as the Trump card, it is amazing the doors that it opens and the attention that people get when you say "Trump." They immediately want to know more.

What makes Trump successful?

He has the strongest belief in quality. When we jack-hammered out the marble (in the models) two weeks before opening, it is because we didn't think and he didn't think it was the best. Any time you have a conversation with him, it's, "Let's change it and make it the best. Let's change this to that." His dedication to being the premier developer and building the best and having that brand name be recognized as the best sets him apart.

What can you teach him?
I am not sure I can teach him anything other than to love Las Vegas as much as I do.

Where do you see yourself in the future?

I see myself finishing this project. We have a lot work to do in preparation for the introduction of the second tower. We don't expect the second tower would even open before 2010. Beyond that, to be honest with you, I don't have any plans. I am assuming that I would still be with the Trump organization, and that I haven't heard the two famous words.

Do you live in fear of being told, 'You're fired'?

No, I don't. As I said to people jokingly, say that if and when I am ever going to be fired, nothing would be better than to be fired by the man, preferably on national TV in front of 25 million people. I would call up my friends and tell them it is happening. No, I don't live in fear of that. It is my job to do a good job and I don't look behind me because we have been successful in what we have been doing. I think we will continue to be.

Brian Wargo covers real estate and development for In Business Las Vegas and its sister publication, the Las Vegas Sun. He can be reached at (702) 259-4011 or by e-mail at wargo@lasvegassun.com.