Trump's Next Golf Resort to
Skirt Scottish Coast
Donald Trump is in another fight, pushing yet another envelope to create a world-class development.
He owns some linksland on the Aberdeenshire coast of Scotland, north of St. Andrews, and wants to spend billions of his dollars creating what he claims could be the greatest seaside golf resort in the world.
Trump's Scotland property is described as having windswept, untamed and vast dunelands, ideal for creating golf holes.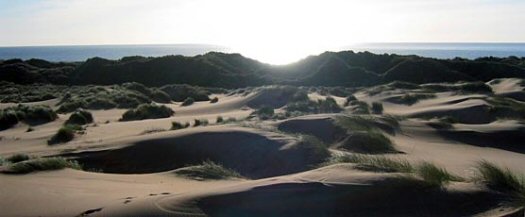 "I have been actively looking for links land in Europe for the past few years, and of course my preference was Scotland over any other country because I am half Scottish," explained Donald Trump.
"My mother, Mary MacLeod is from Stornoway on the Isle of Lewis. She grew up in a simple croft until she landed in Manhattan at the age of 20 and her first language was Gaelic.
"When I saw this piece of land I was overwhelmed by the imposing dunes and rugged Aberdeenshire coastline. I knew that this was the perfect site for Trump International, Scotland. I have never seen such an unspoiled and dramatic sea side landscape, and the location makes it perfect for our development.
"Our site is close to two of the world's most famous courses and is just 15 minutes by car from Aberdeen International Airport.
"As this exciting development comes to fruition, the standards for the golf experience in Scotland will be taken to new levels of excellence by the addition of Trump International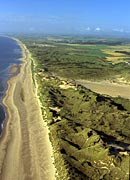 Golf Links."
So what's the holdup? Trump owns the land. He's named his property - Trump International Golf Links Scotland.
But not everyone in Scotland likes the idea of Trump building a mega-resort in those dunes. Several major environmental groups oppose the move and are fighting to block the project. Scottish Natural Heritage (SNH) has designated the site an "SSSI," or "site of special scientific interest."
The local business community sees dollar signs in Trump and those dunes, and is fighting back. And the Trump organization claims "thousands" of people have already expressed interest in owning homes yet to be built around the resort.
Who's going to win? Do you really have to ask?
Trump's resort is going to be built. He's Trump, after all. More to the point, money runs the world, and there's too much money at stake.
The designer of the project will be Tom Fazio II, "Tommy" Fazio, who worked on the original plans with Trump and has worked on some other Trump courses.