Trump SoHo Hotel Condominium
New York, New York
As he's done so many times before, Donald Trump is blazing new trails in the world of luxury real estate. His Trump SoHo Hotel Condominium is the first and, at least for now, only hotel condo in this trendy downtown Manhattan neighborhood.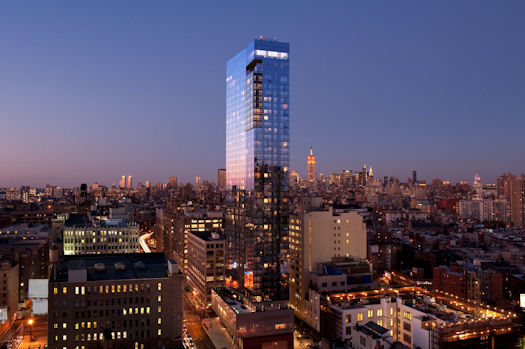 The 45-story tower is made of silver glass and is destined to become a city landmark. Trump SoHo is located on the corner of Spring Street and Varick Street amidst the area's upscale art galleries, chic eateries, designer stores and museums. Like all of Trump's other condo hotels, it is a five-star property.
Trump SoHo contains a total of 413 condo hotel units, mostly studio and one-bedroom units that range from 422 sq. ft. to 905 sq. ft. In addition, there are also five penthouse units and one presidential suite.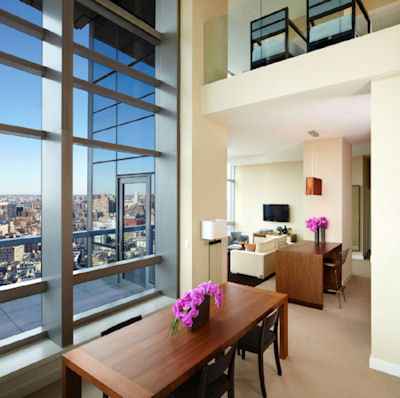 The units are completely furnished and include first-class features like fine leather panels, marble flooring, expansive bathrooms with bronze accessories, stone countertops, and glass-enclosed rain-showers. All guest rooms and common areas have integrated capacities for entertainment and technology. Prices start at $1,023,000.
Trump SoHo Hotel Condominium offers a first class standard of living with a full complement of luxury amenities and services including:
Construction on Trump SoHo began in late 2007. The building was completed in early 2010.
Would you like to receive more details? Simply provide your full name, address and phone number, for proper registration as required by the Trump SoHo development team.  
We will immediately e-mail you complete Trump SoHo information.  (Your personal data will not be sold or mis-used in any way. We hate spam too!)