Trump Plans Midtown Towers in Atlanta
(Reprinted from information in The Atlanta Journal-Constitution, Aug. 4, 2006)
The Donald is coming to Atlanta.

Celebrity New York developer Donald Trump is teaming up with Wood Partners and Dezer Properties to develop two high-rise condo towers in Midtown Atlanta.

The two towers - one 30 stories and the other 40 stories - are the first for Trump in Atlanta. The plans were announced after months of speculation.

"I'm coming to town and we're going to build one of the great developments in Atlanta," Trump said.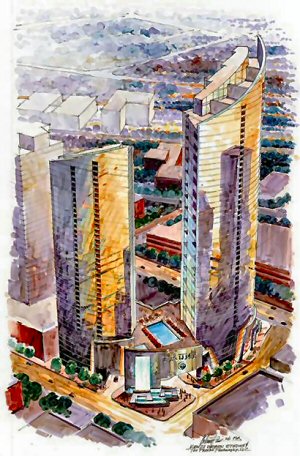 Sketch of Trump Towers, which would have 2- to 3-bedroom units with up to 1,600 square feet and semiprivate elevators for up to the $500,000s.
The project will be called Trump Towers Atlanta and will be located on 2.5 acres the intersection of 15th and West Peachtree streets in Midtown, across the street from the Arts Center MARTA station near the Woodruff Arts Center.

Construction is expected to begin early next year with the first phase to be completed by early 2009.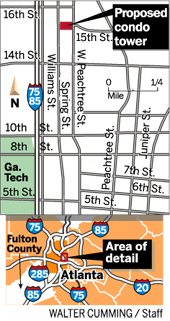 Trump said the $300 million project will be an architectural landmark that will reflect the quality of the Trump brand.

"It's a great location in a great city. I've loved Atlanta for years," Trump said. Atlanta "hasn't been recognized for its architecture the way Chicago and New York has. We're going to change that."
Trump Towers Atlanta will be expensive, though Trump and his team have yet to set a price point. The towers will feature units with 10-foot ceilings, boutique retailers and restaurants.
Trump will form a joint venture with Marietta-based condo developer Wood Partners. Wood bought the site in March for $21 million.

Wood Partners has built several local residential projects, often partnering with Atlanta-based developer Novare Group. Wood also took the condo tower concept to the metro suburbs last year with a 19-story project on Windy Ridge Parkway in Cobb County.

Miami-based Dezer Development is also a partner in the project. Dezer and Trump have worked together on other condo projects, including the Trump Grande hotel and condo complex on Sunny Isles Beach near Miami.
The Trump site is near a number of high-profile projects, including the Atlanta Symphony Orchestra's proposed hall and 1180 Peachtree, the new mirrored skyscraper at Peachtree and 14th streets. The towers would be just across I-85/75 from Atlantic Station.

Trump and his son, Donald Trump Jr., picked the site because of its proximity to Atlanta's artistic center.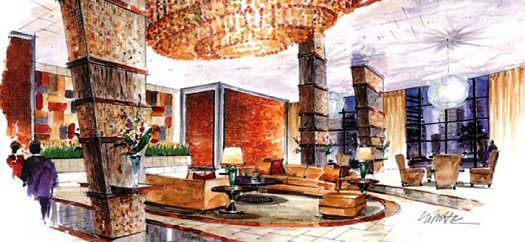 "We are in the heart of the cultural center," said Donald Trump Jr. We're going to give Atlantans "quality like they've never seen before."

Trump, New York's largest developer, has been moving aggressively into Southern markets in recent months.

He announced in August the Trump International Hotel & Tower New Orleans, a high-rise project next to the French Quarter. He unveiled plans for a 52-story condo tower in downtown Tampa in January.

Trump, a pop culture icon since the 1980s, started his Trump Organization in 1974 and has hotel and condo projects across the country, including Las Vegas and Chicago.

His reality show, "The Apprentice," in which Trump chooses a new employee from a cast of competing candidates, started in 2004.
If you are interested in learning more about Trump Towers Atlanta, please feel free to ask specific questions or request our detailed data sheet. We will respond within 24 hours (usually much sooner). Contact Maria Lopez at Maria@CondoHotelCenter.com or call (305) 944-3090.